Bronze, a semi-precious metal, made up of 87% Copper, 10% Tin, and trace elements of lead, zinc and other elements that provide a permanent way to customize and memorialize a life lived.
Bronze memorials are still cast individually, based on the design by each family. Once completed, each memorial is finished with a background color and has a protective coating. The entire process once a design is approved takes from 8-12 weeks. There are about 27 individuals that touch each bronze memorial until its completion.
This protective coating is guaranteed to last for about 10 years, but depending on weather and the environment could last even longer with proper care and maintenance.
Although many families love the newly finished memorial, the protective coasting is not permanent. It is not meant to be so. For unlike other metals, the color of bronze most highly prized is not its original color, but the rich, natural patina than only weathering and age can bring.
The natural finish, or patina, of course is actually a protective coating formed by nature when the manufacturer's coating weathers away. It is not a film of color on the bronze, but actually part of the bronze itself.
It is said that bronze was chosen not only because of the properties already listed, but that as we lose a loved one and begin our path to healing, so does the bronze memorial begin to heal from the manufacturing process. As time goes, the patina is a sign of healing.
Designing the Perfect Memorial
Each bronze memorial is designed based on the wishes of the individual or their family. We have 3 basic ways to tell a life story.
We can tell your story in pictures: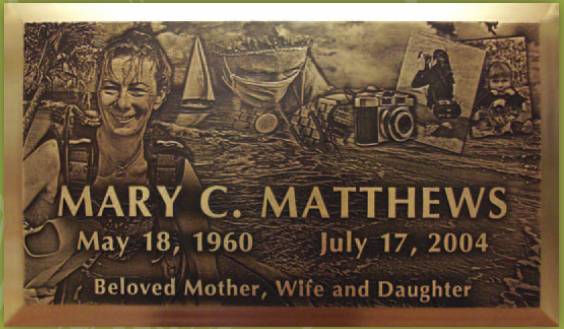 This allows for photos to be used and permanently cast in bronze.
We can tell your story with words and limited photograph:
This allows for unlimited wording, emblems, custom background colors, personal signatures and a color cameo (photo).
We can tell you story using a basic grave locator:
This allows for limited wording and emblems.
The cost of your memorial will be based on the size and style you choose. We use our state-of-the-art designer to create your memorial with you and provide you with a total cost for your memorial that will last for generations to come. If you would like more information on this or assistance designing your memorial, please click the link below.
Some families that like to retain the original finish as long as possible will decide to have their memorial refinished every 15-20 years. This process is simple to complete. We take the bronze memorial up off of the granite base and ship it back to the original manufacturer to sandblast, clean and reapply the original background color, finish, and protective coating. The price of this process usually depends on the size of the memorial and takes 8-12 weeks to complete. If you would like to request for your memorial or the memorial of a loved one to be refinished, please click on bronze refinishing above and we will provide you with the cost and timeline.
Upgrading/Changing Existing Bronze
We have many special programs available to change or upgrade your memorial. Since this is a cast bronze memorial, you cannot simply add lettering or make changes to it. We have a program that allows you to upgrade from one design to the next or remake and existing memorial to correct a date or name. If you would like more information on this, please click upgrading/changing existing bronze above.
The History of Bronze
The history of bronze is fascinating. With the discovery of this metal alloy, whole new horizons were opened to man.
It was bronze that gave man his most important weapon in the fight against the wild strength of nature. A sharp cutting edge. It is said that the story of bronze is the story of the birth of civilization.
2500 to 3000 years before Christ, as the Neolithic period drew to a close, life was still fairly primitive. Wandering tribes had managed to domesticate a few cows and goats. Simple, hand-shaped pottery was coming along. Earthenware cooking utensils. Huts instead of caves.
They had bows and arrows and an occasional copper-headed axe. (Although a good, sharp stone axe held a better edge and was a far more effective tool than a copper one.)
Cooking was done over huge fire pits. These were lined with stones to retain heat. And many of these stones happened to be "tin stone" or tin ore.
One day, probably by accident, a lump of copper ore was dropped among these ordinary cooking stones by the fire tender.
The metal which flowed forth was a mixture of copper and tin…the two essential elements of bronze.
This, then, was the humble beginning of the great Bronze Age. And the race was on.
With bronze came an entirely new attitude. Axes now held their edge. Architecture was revolutionized. In fact, the Bronze Age saw the development of the stone "arch," from which architecture takes its name.
The wheel and potter's wheel were invented. And Bronze Age man discovered riding was superior to walking and first used horses and cattle as draft animals.
Soon, in the more civilized countries of ancient times, Egypt, Syria, Persia, and China, men were using bronze to create implements and memorials…many which endure today.
As far as art goes, archaeologists have discovered that the greatest artists of even the most antiquated civilizations preferred to immortalize their work in the Immortal Metal…Bronze.
Centuries later, the casting of bronze statues reached an artistic peak in France, Italy, and England. Notable figures of English kings probably prompted Shakespeare's reference to the everlasting qualities of bronze. Then, in 1858, the great clock face of "Big Ben" at Westminster, England was cast.
It was during these early years of the nineteenth century that the first bronze castings were done in America. They were little recognized artistically because of the lack of European-trained founders (those who cast by melting and pouring). But as the years passed, great progress was made in America in the casting of bronze for a variety of purposes. Its suitability for memorial purposes resulted in statues and other memorials (particularly those for honoring the military) in cities, towns, and villages of every size across the nation. Bronze began to replace ferrous metals in the production of doors, railings and lanterns. Its use in architecture became wide-spread because of its highly decorative and permanent qualities.
The development and rapid growth of the memorial park concept and memorial park sections in monument cemeteries, brought about the need for a new type of bronze memorial. Especially developed, today's bronze memorial is a custom cast in bronze of a particular alloy of copper, tin, lead, and zinc formulated to last throughout the ages. Its modest cost is a tribute to the developments in metallurgy, modern methods of manufacture, and the widespread acceptance of the new memorials by those who wish to commemorate their loved one in a personal, dignified and permanent manner.